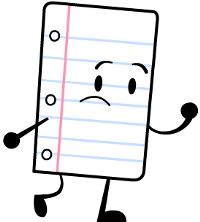 Paper is a contestant on Inanimate Insanity. He is called the Innocent Psycho, since when he was eliminated to Idiotic Island in Season 1, Episode 2, he became psychotic whenever someone hurt him, or when someone said Idiotic Island. However, in Season 1, Episode 13, he faces his evil self inside his mind, and defeats him by randomly summoning a piano onto him. He used to be friends with Knife, although Knife betrayed him in Season 1, Episode 2. He eventually got his revenge on Knife when he caught him in Season 1, Episode 14. He is friends with OJ, and helps him when he sues MePhone4 for harboring the eliminated contestants in Hotel OJ in Season 2, Episode 7, by being his lawyer. He placed 3rd place in Season 1, being beaten by OJ and Taco, and was one of the characters that didn't return to fight for Season 2.
Trivia
He is the only contestant on Team Epic that did not join season 2.
Like Flower, He was the first and last person to be eliminated.